More than just lines – Five things to do see and do in Nazca, Peru
The Nazca Lines are a group of large geoglyphs made from shallow incisions in the Nazca desert that date back to between 500 BC and 500 AD. They have been a UNESCO World Heritage site since 1994 and one of the main reason why this place attracts a lot of tourists.
Was it worth getting an 18 hour bus back all the way from Ayacucho to see these lines? Probably not! However, you are already on this side of Peru, there's no harm in spending a night here to see the Nazca lines and tick it off the "Must-see places" list.
Things to see and do in Nazca:
Go see the Nazca Lines
Visit the Chauchilla Necropolis
Take a trip to the Cantalloc Aqueducts
Go sandboarding if you haven't done it in Huacachina
Have lunch at Papa&Pa
Go see the Nazca Lines
The main reason to go to Nazca is to see the Nazca Lines. While like I said above I didn't find them very impressive, their story is super fascinating. There are approximately 300 of these goeglyphes and, while most of them just run straight across the landscape, some of them are in the shape of animals, plants or other things. Due to there geographic position, these lines are preserved naturally, as this region is very dry.
But what was the purpose of these lines? Nobody knows for sure! One of the explanation was that Nazca people made them so they could be seen by gods. Some other people believed them to be drawings made to summon the water, and others that they would act as an astronomical calendar.
Recently 143 new lines have been discovered.
There are two ways to see these lines, depending on your budget, but also on how interested you are in these lines.
The first way is to fly over the lines. The cost of this tour is usually between $70 and $100 (depending on the number of people) and you will see the main drawings in the sand. This is for sure the best way to see the lines, although some of the people I talked to that did it, weren't too impressed either. The most used companies are AeroNazca and AeroParacas.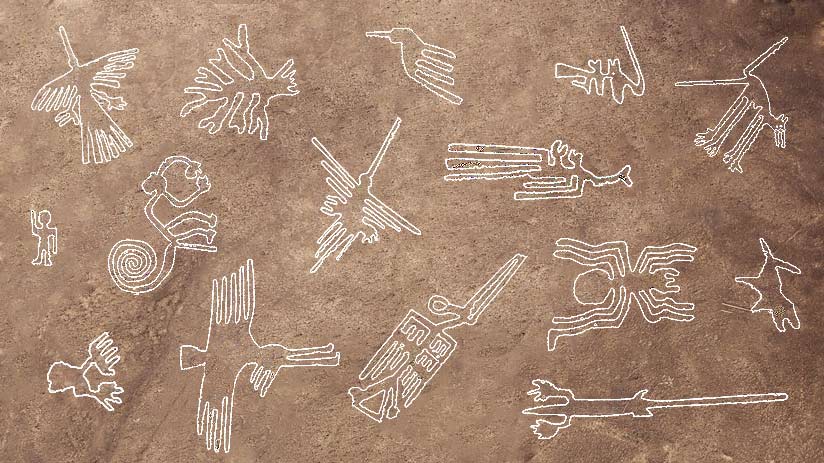 The second way is to look at them from the Observation Tower. This option is the best for backpackers and people travelling on a budget. To get there you can either get a taxi return for 50 soles (approximately 13 euro), or get a collectivo bus from outside the Cruz del Sur bus station, which will bring you there for 3 soles (0.80 euro). Entrance to the tower is 4 soles.
From the tower you can only see the tree and the hands properly, but you can also see – on the other side of the Panamericana – the lizard.
A third way to see the lines is from the mirador natural, a small hill less than 2km away from the observation tower.
Visit the Chauchilla Necropolis
Another thing to do in Nazca, which I thought was much interesting than the lines, is visiting the Chauchilla Necropolis. This cementery is reachable by bus and it's located only 30 kms south of Nazca. Here you be able to see loads of mummified bodies and learn about the history of the place.
Entrance to the place is 8 soles (2 euro) and you can go there on your own. However, I thought that doing a guided tour for 40 soles (10 euro) was very worth it, as we learnt about the history of the place and about the culture of the Nazca people and, on the way back to the town, we stopped at an artisan workshop, where we got to see how them make traditional handicrafts and natural colours from stones and other natural elements.
Take a trip to the Cantalloc Aqueducts
Although less known than the previous two attractions, the Cantalloc Aqueducts is really worth a visit. Although they were built in the pre-Inca era, this network of 40 aqueducts still serves the same purpose today.
They are located only 4km from the Nazca lines and they have some features in common when it comes to design. The total price to visit this place is 10 soles (approximately 2.50 euro) and the ticket includes two other attractions, namely El Telar – a hill from where you can see some of the lines – and Los Paredones – an Inca archeological site.
Go sandboarding if you haven't done it in Huacachina
As I said here, we had already been sand boarding and dune bugging in Huacachina, one of Peru's most famous oasis. However, if you haven't done so, or Huacachina and Paracas aren't in your plan, you could try in Nazca.
Have lunch at Papa&Pa
Finally, if you are looking for a snack or some quick lunch, we had delicious food at Papas&Pa. Here you can get a few started and fries with different topping…They were all so good, even though they weren't traditional Peruvian food.
YOU MIGHT ALSO LIKE: