Our first stop in Ecuador was Quito. Despite being a big city, this place keeps its authentic charm, with its market stands, artisan shops, shamans, and small concrete houses mixed up with modern and tall buildings. Moreover, Quito is located mountains of the Andes, at 2,850m of altitude – making it the highest constitutional capital in the world – which gives you a spectacular view from almost everywhere in the city.
There are plenty of things to do in the city and also a few interesting day trips you can take from here. In this post, I will talk about what you can do in Quito, but if you are looking for information about day trips or other destination in Ecuador, click on the button below.
9 Things to see and do in Quito:
Scroll all the way to the bottom to find out where to sleep and eat.
Take a free walking tour
We loved almost all the walking tour we went on while travelling, but the one in Quito was one of the best in South America. On the tour we learnt about the history of the city but we also saw the main plazas and the Old Town.
Quito's Old Town is a Unesco World Heritage Site, filled with colonial monuments, museums and amazing architecture, and one of the best preserved in all of South America.
There are different areas in the city you will explore through the free walking tour, so wear comfy shoes!
If you do take the free walking tour, you don't need to worry too much about where to go. However, if you plan to visit the main landmarks in the city by yourself, here are some suggestions.
Some of my favourite sites included Plaza Grande, Quito's main square, where you can also see the Carondelet Palace, where the president lives, and the Metropolitan Cathedral. On the tour you will also visit the Iglesia de la Compañía de Jesus, my favourite building in the whole city!
Finally, you'll go to Plaza San Francisco, famous for having Quito's oldest church, street vendors, museums and plenty of cafes, all made better by the incredible backdrop of the Andes mountains.
Visit Mercado Central and have the best fruit juice ever
A backpackers' favourite in almost every place in South America is visiting markets, to get a glimpse into daily life, try local food and drinks and find something unique to take home with you. And Quito was no exception for me.
One of my favourite things to do in Quito was in fact walking through Mercado Central, the city's main market. Among the fruit and flowers stalls you can also see street artists perform. We enjoyed trying lots of different fruit that we had never tried before and I got the best juice ever!
Walk along the Equator Line and visit the Museum
Although it is a very touristy thing to do, if you are in Quito you have to go and see the Equator Line.
However, the "official" Equator Line, called Mitad del Mundo, isn't the real thing. The mistake was realised later, after the GPS was invented and the huge Equator Monument was already built. So if you want to visit the real one, you should go to the Intiñan |Museum, which is about five minutes away.
Getting there: To get there by public transport, there should be a direct bus from Avenida Amazonas, but nobody seems to find it. Instead, you can go to Ofelia station and get a bus to the monument itself for $0.25 and then change for the bus to Mitad del Mundo for $0.15. From here, you only need to walk 10 minutes to get to the Intiñan Museum and the entrance fee is $4.

If you have the budget and don't want to do this alone, you can get an organised tour with Community Adventure Ecuador for $10.

📌Don't forget to bring your passport, as you can get a cool stamp!
Climb the Basilica del Voto Nacional all the way to the top
The Basicilica del Voto Nacional is a massive Gothic church located on a hill in the Old Town and its Quito's biggest church.
There are a lot of elements that make this church so interesting. For example, instead of the traditional gargoyles, you will see turtles and iguanas figures from the church's side.
But, the best part is that you can climb its towers, if you have the nerve, to enjoy a very nice view of the city. However, top go all the way to the top, you need to cross a not so stable wooden plank inside the main roof and climb a very steep ladder to the top.
You can visit this place every day from 9:30am to 5:30pm for only $1.
Also not to be missed here is the beautiful work of its stained glass windows.
Eat chocolate in La Ronda
Ecuador is famous for its chocolate, so when you are here, you must of course try some…in any form you can!
One of the most beautiful parts of Quito is La Ronda, where you can see the heritage from the Spanish era, colourful buildings, traditional food, artisan markets and chocolate. If you are in the area, go to Chez Tiff, to have some of the best chocolate ever. One of their most famous praline is the dark chocolate ball with passion fruit!
Visit the Virgin of El Panecillo
Watching over Quito's Old Town, The Virgin of El Panecillo is probably the first image that comes to mind when you think of Qutio.
The legend around it says that the statue is looking towards the north of the city, while it's giving its back to the south, causing the wealth disparity between the two parts of the city.
The good news is, you can climb all the way to the top of the hill where the statue is, to get an incredible view of Quito. From Plaza Grande, it's approximately 3km and it should take you less than one hour to walk up there.
Take a trip on the Pichincha Teleférico
Volcano Pichincha is an active volcano that can be seen from Quito and the view you can get from up there is considered one of the tops sights of Quito, if you are lucky enough to visit the place on a non-cloudy day.
To get there, you can take a trip on the Teleférico, Qutio's cable car system, which operates from 9 a.m. to 8 p.m. The Teleférico will bring you from 2,900 m to 4,100 m in just 10 minutes and it will cost $8.
Although we didn't do it, because we didn't know about it, you can also climb the For those who want to climb to the Rucu Peak of volcano Pichincha (4,696 m) on a trail that starts at the Teleférico.

Explore La Floresta Street Art
La Floresta is a new trendy neighbourhood in Quito, very popular among backpackers, not only for its bars, restaurants and cafes with typical Ecuadorian food, but also for its galleries, artisans shops and, above all, street art.
One of the most popular attractions here is the Ocho y Medio indie movie theatre, which is located straight across an abandoned house.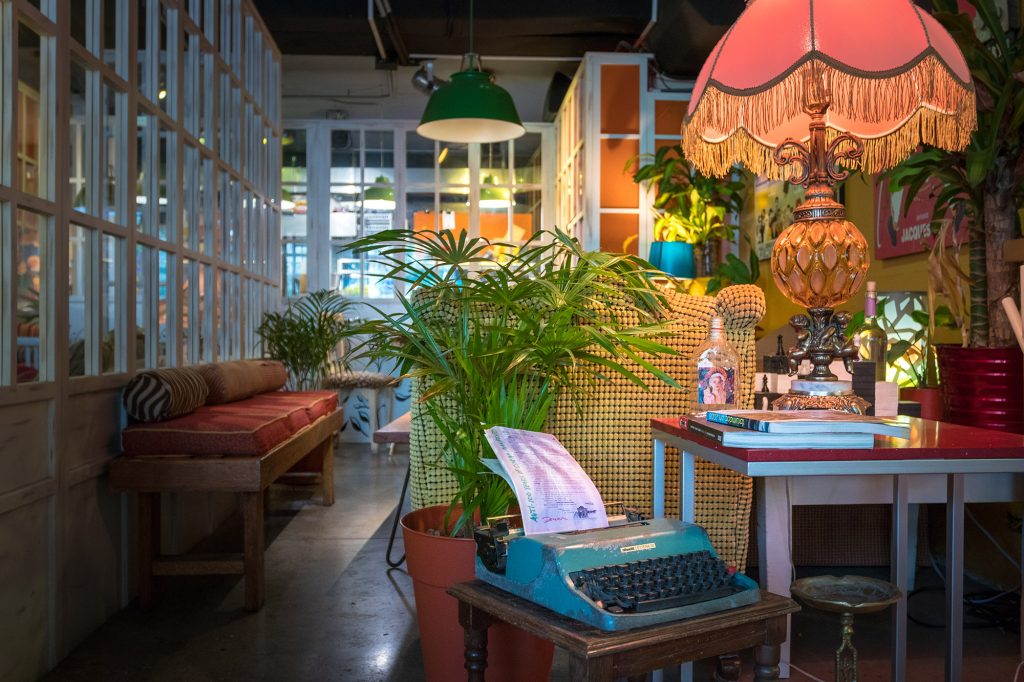 If you are looking for live music, this is the best best to be, with plenty of places doing live jazz, rock and traditional Musca several nights a week.
If you are interested in finding out more about the history of this neighbourhood and its street art, it's possible to do a free walking tour here as well.

Drink Canelazo
Trying food and drinks of the place you are visiting is part of getting to know the local culture, right? I loved all food and drinks I had in Ecuador, but there is one thing that was really my favourite – Canelazo.
drinks, Canelazo is warm spiced cinnamon cocktail made with cinnamon, water, sugar and aguardiente. You can also ask for the alcohol free version.
Other bits and pieces
Where to stay
We stayed in a hostel called La Auberge Inn and we loved it. It is a very relaxed place, which serves food until late, but also has a kitchen, and is very close to all the main attractions. If you are looking for a place where you can party, we spent a couple of nights in the Secret Garden Hostel: this hostel organises a lot of events and parties on its rooftop and the view from here is incredible.
Where to eat:
In Quito we tried a lot of street food and fruit from markets and small family owned restaurant. Food here is usually good pretty much everywhere, so don't be afraid to try it.
If you have been travelling for a longer time and you are missing home instead, but still want to stay within your budget, Cafe San Blas amazing focaccias, sandwiches and pizzas.
YOU MIGHT ALSO LIKE: